biography of
Gour Prasad Ghose (1929 - 1994)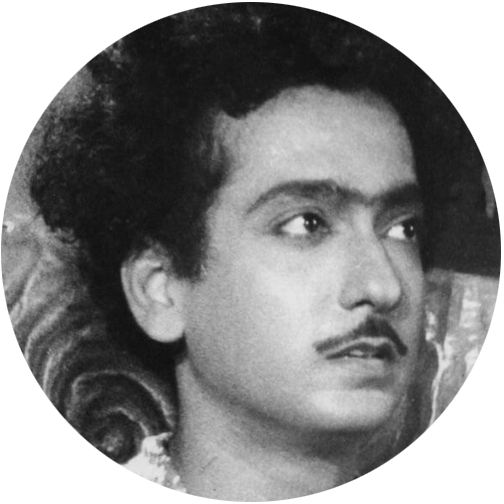 Gour Prasad Ghose…... a veteran actor, director and producer of the Odiya Film Industry, was a name to reckon with. He was the first romantic actor and a pioneer in this industry. He initiated a lot of proactive changes and paved the way for the future generation of Odiya Cinema.
Gour Prasad Ghose or Rai Gour, as he was initially known, was an eminent personality in the film fraternity. He started his career as a struggling actor and with sheer determination and efforts went on to become a renowned artiste as well as a distinguished producer and director. He was also the distributor for his own productions.
All his films were highly successful and popular and were milestones in the Odiya Film Industry. All his films were significant for portraying social and cultural dimensions. He never compromised artistic values for commercial success. Along with his wife Parbati Ghose, he achieved both box office success and artistic accolades. Throughout his career he nurtured many newcomers and introduced noted stage and radio artistes in every sphere of film making.
Gour Ghose was born into an affluent Bengali family. His family migrated to Odisha from Bardhaman via Calcutta. Mother, Suhanshubala, hailed from an extremely educated Bengali family of doctors and engineers from Danapur, Bihar. Father, Late Atul Krishna Ghose, was one of the first few graduates of Odisha and quite proficient in English Literature, often quoting from the works of Shakespeare. Working under the British Government, he made immense contributions towards the development of Odisha, often taking anti-government stance for the betterment of the people. He was associated with Netaji Subhash Chandra Bose's family, who happened to be his neighbors. Their family home was located at Ganga Mandir, Cuttack, which was adjacent to the property donated to the Brahmo Samaj by them.
Rai Gour's acting career started with plays in Ravenshaw College, Cuttack. During his college days he was connected with the cultural endeavors of the Praja Socialist Party (a National Political Party), which organized plays for the freedom movement and social awareness. The party office was contiguous to his house which made it convenient.
Through these plays, he became acquainted with noted personalities, such as Ashok Mehta, Aruna Asaf Ali, Ram Manohar Lohia, Jai Prakash Narayan, Banka Bihari Das, Surendra Nath Dwivedi, Biswanath Pandit,Gobinda Das, Shanti Das, Kulomoni Mahapatro, Shyamali Lahiri, Nishamoni Kunthia, Baikuntha Nath Mohanty (Bhai Bhai), Manoranjan Das, Pradipta K. Das and many others.
In 1947, Jana Sanskruti Sangha (Peoples Cultural Organization), staged a play "August Na" (9th August), written by Manoranjan Das, who went on to become one of the most famous playwrights of Odisha. Rai Gour was cast as a primary character. This play was the first major turning point in his career which opened new vistas to pursue his passion.
Shortly thereafter, 'Orissa Theatre' staged the popular work of Kabichandra Kalicharan Patnaik, titled "Bhata" (Rice), in which Rai Gour again played a significant role. The resounding success of this play motivated Rai Gour and his colleagues Nitai Palit and Gobinda Tej, to make a cinematic version of it. However, the project never saw the light of day. Undeterred by this setback, the trio, along with a few others, ambitiously went on to form a group called the United Artists. They were successful in staging quite a few plays. Some of them, namely, "Mamata" in Odiya and "Do Aansoo" in Hindi had Rai Gour in the lead. This was another vital stepping stone for him as an actor.
Consequently, he veered into cinema. His foray in movies began with "Sri Jagannath" as Shaktidhar, under the banner Rupa Bharti Ltd., in 1949.
Renowned stage artistes, namely, RamChandra Mania, Khagendra Nath Mitra, Samuel Sahu and Kartik Kumar Ghosh also began their film careers with "Sri Jagannath"……… Incidentally, Dhiren Das launched Chapala Naik (Parbati Ghose) as a child artiste (Neel Madhav) and the lead actors were Gopal Ghosh and Gloria Raut.
Thus began his extensive and fulfilling journey as an artiste. Being ambitious to accomplish further, he met Dr. Harekrushna Mahtab, then CM of Odisha, and armed with his recommendation letter, he set out to try his luck in the Bombay Film Industry.
In Bombay, now Mumbai, he was fortunate enough to join Prithvi Theatres and work with the likes of Shammi Kapoor, Sudesh Kumar and other such stalwarts. At the same time he managed to work as PA to Nalini Jayant (popular leading actress of the time) and also, as the 3rdAsst. Director to then famous director, Gyan Mukherjee. His various work environments led him to meet the likes of Ruma Guha Thakurta and her mother Sati Devi. However, his meeting with the noted leading actress Snehalata Pradhan, ex wife of actor Kishore Sahu, was an imperative turning point in his career. She was instrumental in procuring him a break in the Hindi movie "Sadma" in 1951, which was directed by Akul and produced by Asiatic Productions. This movie presented him the major platform to meet with then famous actor Mahipal, who had just completed the Hindi film "Makhi Choos", directed by Ramchandra Thakur, popularly known as Thakur Bhai. Along with Mahipal, he courageously aspired to produce the Odiya version of "Makhi Choos" retaining Thakur Bhai as the director. The translation to Odiya of this project was entrusted to Manoranjan Das. Unfortunately, this venture did not materialize.
Nevertheless, his contact with Thakur Bhai, later had great consequence in his illustrious career.
At this juncture good fortune prevailed and he was offered the lead role in an Odiya film "Amari Gaan Jhua" by Naren Mitra, the owner of Capital Cinema, Cuttack, under the banner Utkal Chitra Pratisthan. Incidentally, Rai Gour was also offered the lead in the Bengali version of this movie…. "Pon Rokhya".
The screenplay and direction for both versions was by Binoy Banerjee. Lyrics and dialogue of the Odiya version were by KishoreKabi Shyam Sundar Das and Manoranjan Das respectively. Manoranjan Das was also the Asst Director. The lead for the Odiya version was Rai Gour, Gopal Ghosh and Chapala Naik.
The Bengali version had Chitra Mondal and Sadhan Sarkar along with Rai Gour. "Amari Gaanjhua" was the first Odiya film to have a social theme (Child Marriage). The success of this movie firmly established his career as a lead actor.
In 1954, he was offered his second lead in "Kedar Gouri", produced by Choudhury Balaram Das of Radha Pictures. Rai Gour now became Gour Prasad.
"Kedar Gouri" had the first Odiya director Manoranjan Das, who co-directed with Nityananda(Nitai) Palit.
Gour Prasad Ghose's defining moment came in 1956, when he turned producer with "Bhai Bhai". There was no stopping him now. He then voraciously proceeded to churn out successful and award winning movies. "Maa" in 1959, "Laxmi" in 1962, "Kaa" in 1965, "Stree" in 1968 and "Sansaar" in 1971.
After "Sansaar' he took a well deserved break from movies and ventured into television. This seemed the perfect time to experiment and expand his repertoire, as television by now was gaining momentum. He produced and directed Odiya telefilms, "Samadhan" and "Hawker".
Tasting success in the regional medium he initiated to take a giant leap into National Television.
In 1985, he presented "Prashna", the first Hindi telefilm on National Network from Odisha. The story dealt with the evils of dowry, which was well appreciated by Doordarshan.
He was entrusted with his second Hindi telefilm "Sopan" in 1987, which was based on Adivasi Labour Exploitation.
His third Hindi telefilm, "Yashodhara" in 1991 for the National Network, dealt with the abuse of drugs in our society.
The entire cast and crew for all his telefilms for the National Network were from Odisha and his daughter Ratri Ghose was cast in the lead.
Since his inception in the cine world, Gour Prasad had always produced films with strong relevant social messages of the time. He continued with this tradition in television too.
Thereafter, unfortunately, his health took a negative turn. His zeal and passion however could not be suppressed. 1992 saw Gour Prasad Ghose produce a documentary in English for the Film's Division titled "Contribution of Orissa in Freedom Movement". He embarked upon this project with utmost diligence and showed his mettle in depicting the vivid details of the struggles and sacrifices of the freedom fighters.
Appreciating his work the Film's Division proffered him a biopic based on the life of Bhakta Salabeg, a devout Muslim devotee of Lord Jagannath.
However, in 1993, he was taken ill with cancer leading to delay in this project. The following year was spent in his treatment in India and the U.S.A. Soon after his return from U.S.A, he was taken serious, which finally led to his demise on 9th December 1994. Salabeg's story never started.
The Film Division however, was gracious enough to offer Parbati Ghose the opportunity to make this film, which she duly completed in 1996.