biography of
Parbati Ghose (1942 - 2018)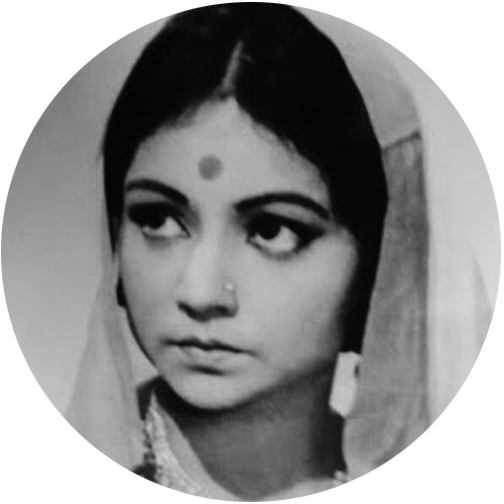 Parbati Ghose a.k.a.. Chapala and Chandana was as big a legend as her husband Gour Prasad Ghose in the Odiya Film Industry.
An extremely talented actress in her own right, her memorable and powerful performances were at par with national level artistes. Eminent film makers like Hrishikesh Mukherjee, Prabhat Mukherjee and Tapan Sinha were keen to work with her. She was much adored at the peak of her career and had been showered with numerous awards and accolades.
Her husband gave her the platform to become Odisha's first woman producer and director.
Along with him, she blossomed as an artiste. She exhibited great strength, overcoming her share of hurdles and carried on with the production house even after his demise.
Born in Cuttack, Odisha, she was one of eight siblings. Though a middle class family, they were rich in culture and education. Father, Late Basudev Naik, worked as a manager in the famous ManMohan Press. During his tenure, the noted writers Kanhu Charan Mohanty and Gopinath Mohanty had many of their best selling works published by this press. He was also responsible for the Odiya translation of the Gita, the editions of which are still available. Mother, late Sebati Naik, hailed from Damodarpur, Cuttack, and was a housewife. Though not highly educated herself, she encouraged her children to pursue cultural and academic ambitions.
Chapala received immense support from her parents to follow her passion. Her penchant for acting was first ignited in her school, Sanat Nalini Girls High School, where she vigorously participated in various cultural and social activities. Chapala won her first award of rupees five in a school poetry recital. Her teachers adored her and encouraged her to showcase her talent. Years later, they honoured her as the Chief Guest at their Diamond Jubilee Celebrations.
She took dancing lessons from great exponents like Guru Kelucharan Mahapatra, Guru Dayal Sharma and Guru Suresh Routray.
From a very young age she participated in a lot of social causes and state celebrations like Rabindra Jayanti etc. She had a kind and helpful disposition and was fondly known as Chapala Rani in the neighborhood.
Being an avid reader and quick learner she put in great effort and became quite proficient in the Bengali language after her marriage into the Ghose family. This enabled her to enjoy many great Bengali literary works.
Subsequently, Chapala got involved (as a child artiste), in All India Radio and the social and cultural programs of the Praja Socialist Party.
She became an 'A' grade artiste and got instant fame.
Soon she was offered her first onscreen role as a child artiste (NeelMadhav), by the noted singer Dhiren Das for the movie "Shri Jagannath" in 1949.
Incidentally, Rai Gour (GourPrasadGhose) was also a part of this movie as Shaktidhar.
The huge success of "Shri Jagannath", was a defining launch of her long and memorable career. She gained instant fame through her sensitive portrayal of Neel Madhav. "A star was Born"….
In 1953 she was offered the lead role in "Amari Gaan Jhua" opposite Rai Gour, produced by Naren Mitra (Utkal Chitra Pratishthan). The movie, which dealt with the perils of Child Marriage, was immensely appreciated as was the lead pair. Gour-Parbati shot to fame as a romantic pair. In 1956, when Rai Gour turned producer with "Bhai Bhai", Chapala was the natural choice for the female lead. "Bhai Bhai" gave them the opportunity to come in contact with some influential personalities, not only from the film industry but also from the political and social circle.
Chapala's next lead role was in "Maa" again produced by Rai Gour in 1959. This year became significant as she tied the nuptial bond with Gour Ghose and became Parbati Ghose (name given by her in-laws).
Parbati Ghose, along with Gour Ghose, went on to create history in cinema, churning out successful and award winning movies consecutively.
"Laxmi" in 1962, "Kaa" in 1965, "Stree" in 1968, "Sansaar" in 1971. Her powerhouse performance in each one of them held the audience spellbound and enthralled.
After "Sansaar", the husband wife team announced the cinematic version of Fakir Mohan Senapati's epic novel "Chha Mana Atha Guntha", with much fanfare. It was a moving story of the exploitation of the villagers by the Zamindars. The venture inadvertently got delayed due to unforeseen circumstances. However, she was able to revive the project in 1986 and independently produced and directed the same for which she received critical acclaim.
In the interim, she kept her passion alive through acting in TV serials and Radio plays. She excelled in this area too and was soon conferred 'A' grade status in both. In 1977 she acted in a couple of non home productions, "Dora" and "Amar Prem".
Gour-Parbati duo returned to home turf, as producer/director with Odiya telefilms, "Samadhan" and "Hawker", for the Regional Doordarshan.
They also made Hindi telefilms, "Prashna" and "Sopan", for Delhi Doordarshan.
In the following years she was actively associated with various literacy programs for the State Rresource Centre and produced/directed numerous musical videos, short films and documentaries for them. "Saria Pura Ra Sania", penned by Indu Bhushan Misra, was a musical video based on literacy which created quite a stir amongst the common man. They identified themselves with the character Sania and were motivated by him.
In 1996 she made "Salabeg" for the Films Division. The pivotal role of Salabeg, a Muslim devotee of Lord Jagannath was played by Satyaki Misra, under the meticulous direction of Parbati Ghose. IPS officer Binoy Behra was also a part of the cast.
Parbati Ghose introduced several young talents. Many of them later found a firm foothold in television and cinema.
Some more feathers in her cap were……
Short film, "Pitei Nani" written by Prof. Shatrughna Nath, was on women's emancipation.
Biopic on the noted Philanthropist and Freedom Fighter Malati Choudhury was well appreciated even at the National level and was used by the Delhi University as a case study.
Her Doordarshan serial "Pura Puri Parabarika" was quite popular. Telefilm "Paribartan" was on tribal health in their local dialect.
To mark the celebration of 50 years of Independence, she was invited to make a telefilm "Pratibha". It was based on the famous novel by Utkal Kesari Dr.Hare Krushna Mahtab.
She made films like "Sankalp", "Surakhya", "Amari Gaan" for the Family Welfare Dept. of the Odisha Government.
• She also experimented in some contemporary musical audio/videos for Sarthak Music. The lead singers were her daughter Ratri Ghose and noted builder Tapan Mohanty. Her granddaughter Pavlina Ghose enacted in most of the videos.
Even though she had retired gracefully from the cine world she emerged often for social and voluntary work.
She was felicitated numerously for her mammoth contributions and was a recipient of several Lifetime Achievement Awards by reputed organizations.
She breathed her last on 12th February 2018, leaving behind her imprint and her legacy in the Odia Film Industry.
Hon.CM Sri Naveen Patnaik also paid his last respects to her.
She was given the honour of a State Funeral.